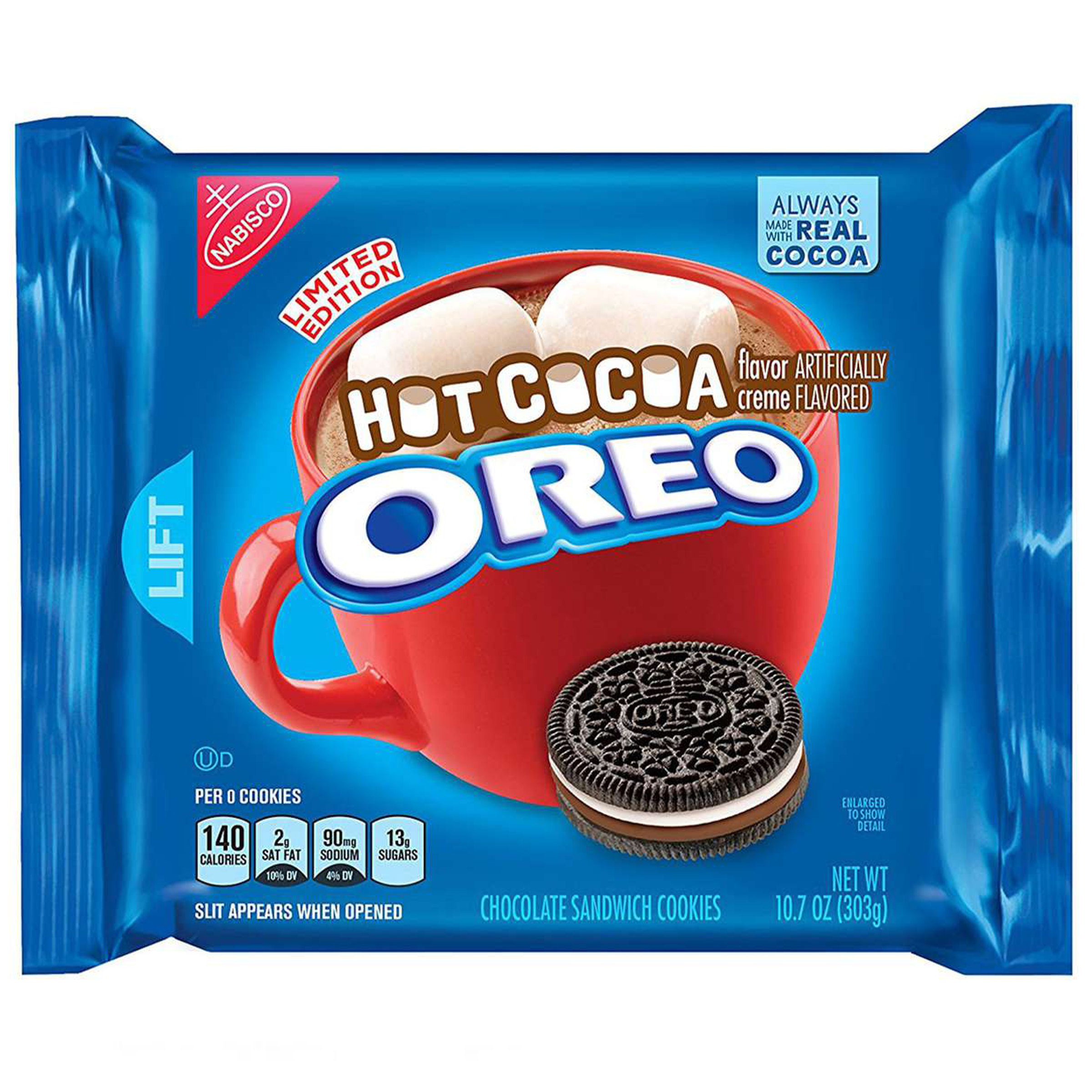 Oreo - Hot Cocoa Flavour
---
Savor the cozy and indulgent taste of Oreo Hot Cocoa, a delightful twist on the classic Oreo cookie. These cookies combine the beloved Oreo chocolate wafers with a smooth and creamy cocoa-flavored filling, offering a comforting and satisfying snacking experience reminiscent of a warm cup of hot cocoa.

Hot Cocoa Bliss: Oreo Hot Cocoa captures the essence of a comforting and indulgent cup of hot cocoa, featuring a rich cocoa-flavored filling that complements the classic Oreo chocolate wafers. Classic Chocolate Wafers: The cookies retain the iconic Oreo chocolate wafers, providing a satisfying crunch and the familiar cocoa taste.

Creamy Cocoa Filling: Inside each cookie, you'll discover a velvety and cocoa-flavored filling that offers a smooth and delicious contrast to the chocolate wafers. Perfect for Snacking: These cookies are ideal for snacking at any time of the day, whether you're enjoying them on their own, dipping them in milk, or using them in dessert creations.

Cozy and Satisfying: Oreo Hot Cocoa is a delightful variation that brings the warmth and comfort of a cup of hot cocoa to the classic Oreo cookie. Embrace the comforting taste of hot cocoa with Oreo Hot Cocoa, a special take on the iconic Oreo cookie.

Whether you're an Oreo enthusiast or a fan of hot cocoa, these cookies provide a cozy and satisfying snacking experience that captures the essence of a warm and indulgent treat. Don't miss the opportunity to savor this unique and delicious variation of the classic Oreo.

Imported from USA / 303G Package.